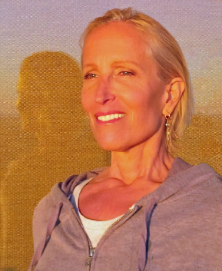 Karen L. Rudiger

Extreme Athlete & Exercise Scientist, Myologist
Athletic Trainer, Fitness Coach, Exercise Therapist, & Body Educator.
Best known as the BodyTeacher™ 44 years of fitness leadership.

Karen is an advocate for body education, promoting the firsthand knowledge of elite-athletes in the fitness business__, she summed up her motives in two conjoined words, "Futurehuman", since 1974
Visit the New www.Futurehuman.com.
Become a part of the Futurehuman fitness community and connect with athletes around the world. When you sign onto, the new Futurehuman you will see it is in the early stages of development. In 2021 Futurehuman will launch phase two providing a new kind of fitness service never done before in the history of fitness. In the meantime before our launch visit the Futurehuman team of athletes in our directory and shop. Click the links and get of glimpse of some of the most knowledgeable trainers on the planet!
phone: 917.224.4944

email: karen@rudigermethod.com

RudigerMethod™ dba, Futurehuman™ Corp.


RudigerMethod™ online training & body education
opening soon under Futurehuman Corp. fitness at www.Futurehuman.com



RudigerMethod™
Services:
Athletic Training & Fitness Training
Workshops:
RM Body Tune8Up™ New Functional Fitness Training
RnBcardio

™

Rhythm Breathing and respiratory conditioning
Specialized Exercise Therapy:
Physio-Analysis™ & Posture Correction
Injury & Neuro-muscular Rehabilitation
Corporate & Home Gym installations:
Home GymStall™ Consultations & Installation
Training Services can be booked in the
privacy
of your home, office, or gym. Karen also has relationships with many private facilities throughout the tri-state area, along with private s
chools, public parks, and recreational centers.


Contact Karen for more information:
Email: karen@rudigermethod.com
Phone: 917-224-4944


COVID19 Update, in person training services are temporarily suspended until further notice.
In person fitness services are expected to reopen July 1st. If you have questions or need to consult with Karen please call the number above or send a text.